Post by jdv on Feb 23, 2022 19:40:40 GMT -5
Oddly enough, Russia invaded the Ukraine 24 hours after Kamala Harris told them not to. Obviously Vlad hates women, and is a stone cold racist.
"I mean, listen guys, we are talking about the potential for war in Europe," Harris told the European media. "I mean, let's really take a moment to understand the significance of what we're talking about."
Congratulations Kamala - you've managed to make Dan Quayle look like a super genius again. Strangely, her speech didn't stop Vlad in his tracks.

Germany - which wisely decided to trust their mortal enemies to provide them with oil - has now decided not to use that oil, a decision which is already skyrocketing heating costs in Europe. This as Biden promised today to reimpose Trump's sanctions on Russia, the same ones Joe removed 9 months ago.

But don't worry, the same is happening here as oil has already jumped to over $100 a barrel, even as Joe moved to shutdown yet another domestic oil source. Americans were already facing the highest prices in 9 years, and it's sure to get worse.

It would have been nice if the press could have asked Joe why he would do such an obviously stupid thing, or why his plans have once again blown up in everyone's face, but he once again bolted from the podium today after slurring through a bizarre speech where he once again double dogged promised to really hurt Putin.

Joe did let one thing slip - he too expects gas prices to go up even further, so we got that going for us.

The GOP immediately blasted the obviously frail Biden for emboldening Russia, while a reporter at CNN then described the GOP as "enemies" for daring to criticize "walk away" Joe, seemingly oblivious to all their own ridiculous 'reporting' on Trump.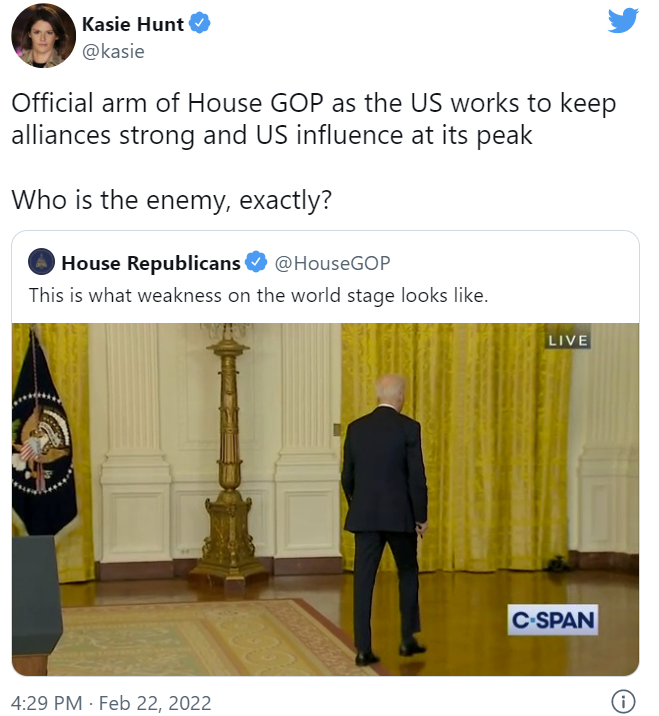 Not to be outdone, CBS today tried blaming the US's economic woes on the invasion, which is less than 48 hours old.

Meanwhile, Secretary of State Tony "I'm" Blinken was literally shaking in his boots today in an interview with ABC News while discussing what to do about the Russian bear.

I mean literally shaking. Either he had 10 cups of coffee that morning, or he was one step away from shitting his pants the same way his boss does, realizing that the so-called "adults" are in fact wildly out of touch grifters w/o one wit of common sense about them. People utterly unable to deal with countries who do not think that transsexualism is the highest of national priorities.
None of it has convinced Americans that we should spend a drop of our own blood or a cent of our money on the conflict - the latest poll measuring support for further action mirrors Joe's own popularity - around 35%.
And of course, none of Biden's measures (or lack thereof) prevented Russia's actions - one Biden himself invited when he said he expected a "minor incursion" a month ago.

History buffs couldn't help but point out this is the 2nd time Russia has invaded Ukraine with Joe in the White House (first time he was veep). If you're keeping score at home, that's 2 Russian invasions of Ukraine under Biden, 0 under Trump (which is really weird considering Trump was Putin's puppet and all).
Like his debacle in Afghanistan, Joe again invites nasty comparisons to Jimmy Carter who, like Biden, was unable to craft either a successful domestic or foreign policy. Thus gas will skyrocket to never seen before prices as the economy continues to sputter and slow - even as Russia takes what they want and the threat from Iran grows.

It's a giant shit sandwich and we're all going to take a bite. And the "chef" is still in the kitchen at least until this November, by which time calls for impeachment and/or a removal via the 25th amendment will no doubt have reached a fever pitch... from both sides of the aisle.

Strong work CBS - everyone now knows you're clinically retarded.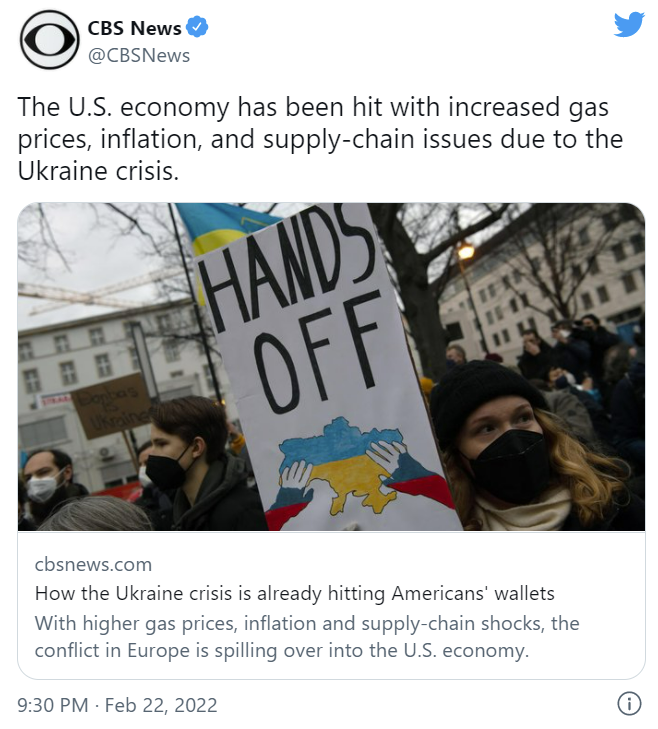 'Member?